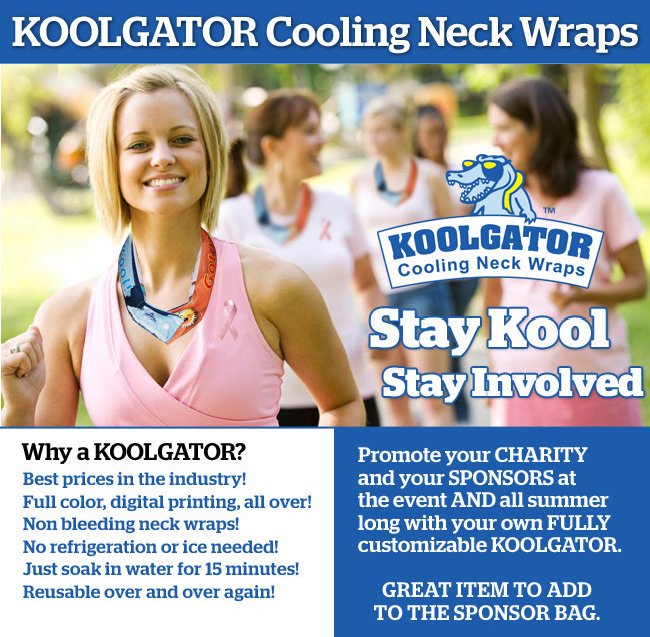 WHAT IS A KOOLGATOR?
A KOOLGATOR is a FULLY customizable, full color, branding tool that consumers put around their neck to keep cool.
WHY A KOOLGATOR?

The only FULLY customizable cooling neck wraps in the industry. Unlimited full color, digital print, all over and on both sides. Best prices. No set up fees or other charges. Will never bleed. Unique and purposeful promotional item (helps cool you down). Appeals to all ages and demographics. One size fits all. Plastic safety snap. Reusable. Provides multiple impressions. Easy to use.
HOW IS THE KOOLGATOR MADE?
KOOLGATOR starts every order with a soft, all white, 100% polyester fabric to provide for the highest quality printing resolution and the most "breathable" fabric to increase the evaporation process.


Dye sublimation, which uses special CMYK inks, allows us to digitally print any number of colors or images, including photographs. The artwork is heated and pressed onto the fabric, which bonds the inks, to actually become part of the fabric. With dye sublimation you will not feel the inks on the surface of the fabric, as you do with silk screens or heat transfers. These inks will NEVER BLEED!
HOW DOES A KOOLGATOR WORK?
Soak in cool water for 15 minutes and the non-toxic, biodegradable crystal polymers sewn inside
the fabric, absorb hundreds of times their weight in water. This keeps the consumer cool all day
through the process of evaporation. No refrigeration or ice required. For convenience, the
directions are printed directly on every KOOLGATOR.