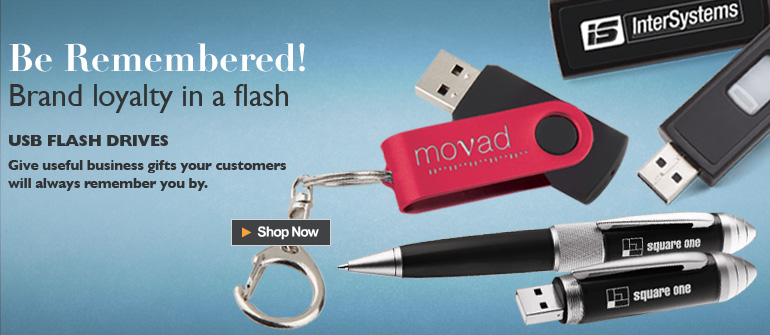 Logoed FLASH Drives from Blue Dragonfly Marketing
We offer a wide range of Logoed FLASH drives that are ideal as trade show giveaways and other event-related marketing strategies.
Customize FLASH drives with a variety of design styles and by using the personalization services that we have available for you. Go through our vast design options and pick the style that suits your company. Once you've chosen a design, we can help you Customized FLASH USB drives, so that your company's logo can stand out even more. By making use of our FLASH drive printing services, you can make sure that you will get a lasting return on this sound investment in Logoed FLASH drives as your company will be advertised on a daily basis.
These personalized FLASH drives will help your company save time, space, and money as they will already do all the advertising work for you. The need for overly expensive marketing strategies can now be substituted by this excellent alternative.
Logoed FLASH drives from Blue Dragonfly offer organizations a lasting return on a sound investment, both by way of component quality and superior bulk pricing for special events and other tradeshow giveaways. Our selection of Logoed Flash drives is diverse and abundant. We provide many style varieties of promotional Flash drives, as well as plentiful options for embedding your company's logo on these devices. Our products are lifetime guaranteed, and can be Customized by way of not only the logo that appears on the outside, but also the data that comes loaded on the device. Options are available for preloading these personalized Flash drives with a variety of multi-media content, such as music, documents, videos, Flash presentations, and other applicable media and data.
Logoed FLASH drives come in an expansive selection of shapes, colors, sizes and storage capacities. In addition to pre-rendered varieties, Print FLASH offers Logoed-tooled molding based on your specifications. We can produce promotional Flash drives for your tradeshow giveaways or Logoed Flash drives to precisely meet the requests of our clients. Our goal is nothing less than their complete satisfaction of the individuals and businesses we serve.
Logoed Flash Drives Save Time, Space, Money, Resources
Printing your company logo on a stylish, distinctly labeled promotional Flash drive offers perpetual value for your business, decreasing mailing costs as well as costs on expendable resources. Devices distributed in this nature could also serve to offer your customers a reusable, dependable device that has value, keeping your company's name within their line of sight for all the right reasons.



Why Buy USB FLASH Drives from Blue Dragonfly Marketing:
We use only the highest quality Genuine Flash components.

We offer unsurpassed service and support through client consultation.

Our references are exceptional.

We promise to make your logo shine more professionally than ever.