Are you looking for a fantastic way for your employees and/or customers to access promotional products anytime? Control your budget, your brand and your time with a corporate online store from Blue Dragonfly Marketing, Inc.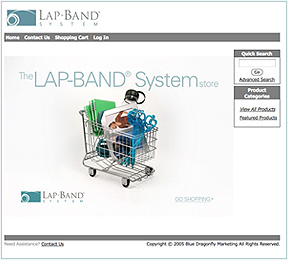 sample store
Eliminate multiple vendors
Maximize the best volume discounts
Control corporate logo use
Have merchandise available 24/7
Reports on merchandise and more!
Blue Dragonfly's program planning group will manage the process from start to finish, making it easy to get your online store up and running in no time. From defining corporate goals, to item selection, to program marketing, we make sure that setting up and fulfilling your corporate online store is a hassle-free experience.
Unique Features. Stellar Performance. The Buzz for your Brand! ™
Our corporate online stores are an easy-to-use extension of your brand and marketing strategies. We're different from other online store providers because we offer unique tools and solutions to ensure your success.
Speedy Logo:
Don't waste thousands of dollars stocking pre-embroidered apparel. Our Speedy Logo process allows you to carry more sizes, colors and styles because items can be embroidered to order.
Low Inventory Requirements:
We support a 99% in-stock fill rate on merchandise. Conservative stock inventory ordering allows us to avoid large quantities of stagnant merchandise, making it more cost-effective for your company to keep marketing items on-hand.
Proactive Service:
The launch of a new program is only the beginning of the comprehensive services that we provide. Our sales team will actively contact significant customers and internal accounts to help make sure that they understand the new program.
Global Sourcing:
Blue Dragonfly Marketing is an expert in global sourcing and uses the world market to provide the best possible value to our customers. Your corporate online store will benefit from the long-term vision that comes from our years in the marketplace and our ability to bring innovative and cost-effective ideas to your e-commerce investment.
Expert Warehousing and Fulfillment:
Your project will benefit from our proven capabilities in warehousing and fulfillment. By keeping these vital services in-house, we control the delivery and quality of orders going out. In addition, we make sure that inventory levels are kept tight, minimizing out-of-stock situations.
Total Brand Control:
When you partner with Blue Dragonfly, you know that your brand will be properly applied to all promotional products, marketing items and custom logo apparel. Our in-house art department will make sure that your brand standards are followed exactly. We provide a library of approved logos that cannot be altered by an online buyer.
Reporting:
You'll be up-to-date on sales activity and inventory levels with reports that track monthly, quarterly and annual trends in your store. We can also help manage the budgeting process by reporting spend on a per-user basis. We can even set budget limits for store users, eliminating the possibility of overspending.
Learn more:
Contact Us
or Call Blue Dragonfly Marketing at (800) 467-9528